New World Rising DLC for Anno 1800: New Island(s), more space and a dam providing electricity!
Posted on Nov 24, 2022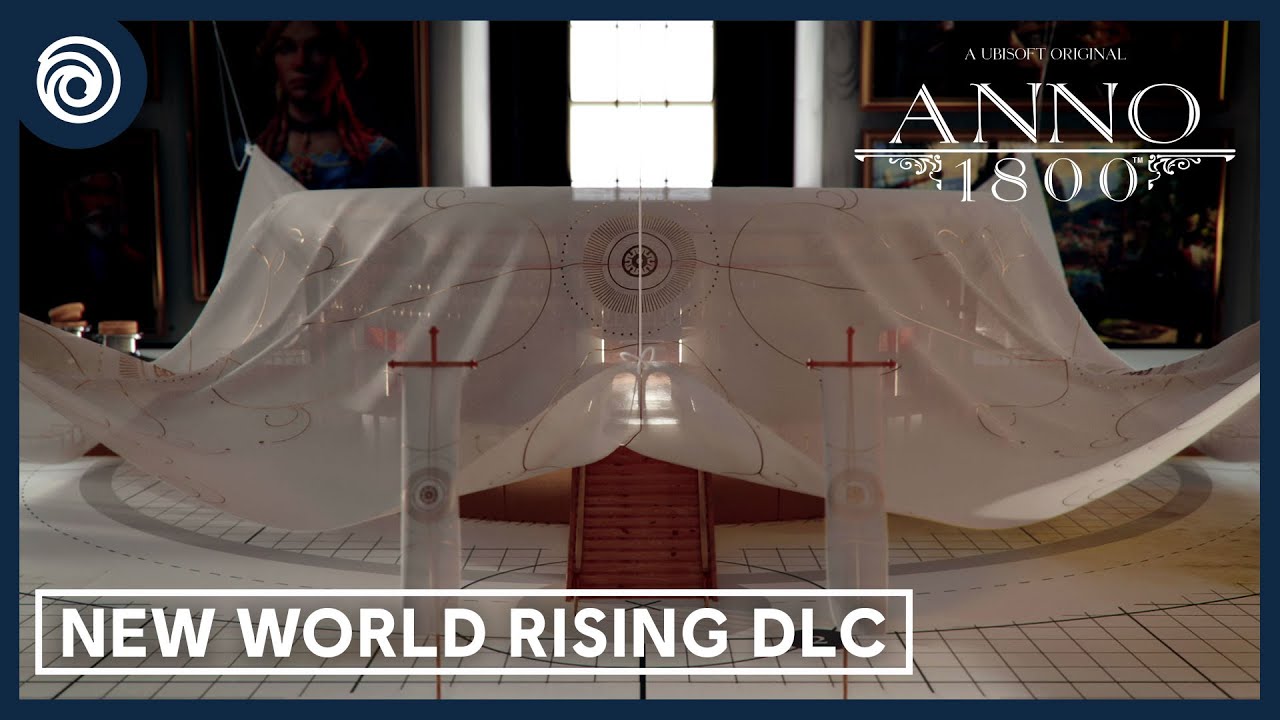 With the New World Rising DLC for Anno 1800, the developers are taking "expanding the New World" to whole new level. Not only will there be more room in the region for islands, there will also be a completely new (and large) island!
I'll admit: I'm not really a production builder.
My population is always short of something. I don't have islands full of production chains, trade unions with items on every street corner and electricity keeping everyone awake for the nightshift.
What I do like, is making my islands pretty. Little back alleys with farmer houses. Industrial areas with worker houses. Grande streets and parks with engineers and investors. Things like that.
Now, the New World sucks. We all agree. Because lets face it: buildable area is always a problem. If we only had a large island like Cape Trelawney...
In this post
New New World Capital Island
This is no longer a dream, my friends! As of December 8th 2022, the launch date for the New World Rising DLC, a large new island will be ready to settle in the New World.
It's called Mānola, inspired by the Manoa Falls on Hawaii, and is especially created to give us a similar experience as Crown Falls.
There will be a large area near the coast, several beaches and levels further inland, as well as an impressive mountain range. Those mountains and the environment will provide multiple resource deposits like mines, oil and clay.
But there will also be plenty of space to create a great population as well as industrial island.
Most of all, the island will be home to a great new monument: a giant dam.
A giant electricity providing Dam
As one of the main features of Mānola, a giant dam can be built. Monument style, so several phases, reach requiring more resources (like concrete from the Old World) and residents to complete.
A giant dam... doesn't that sound familiar?
Of course! If you've played the Eden Burning scenario, you will have built this already. And know of it's most impressive quality...
... Electricity!
As soon as you've finished building this giant dam monument, it will be able to provide electricity to the whole island of Mānola. No oil harbors, rail networks or power plants needed!
Even more space in the New World
Aside from Mānola as a new island, there will be more space for islands too.
The whole region will get a new strip of space to the two northern borders, increasing the total region space by a whopping 30%.
Those miles and miles of sea will be dotted with new islands to settle.
As a matter of fact: new new islands. The Art team have created 10 new island layouts to the map pool for the New World region.
More variety: hooray!
New World Rising: coming soon!
The New World Rising DLC, the last addition to Seaon 4 of Anno 1800, will be released on December 8th 2022.
Owners of the Season Pass 4 will automatically gain access to all its new features as soon as the update finishes downloading.
Don't have the Season Pass? The DLC will be available for single purchase too. It will probably set you back about €12,50.
My advice though? Get the Season Pass for Season 4. With the massive discounted game sale Ubisoft has on right now, it only costs €19,99!