Is the Sunken Treasures DLC for Anno 1800 worth buying?
Posted on Oct 23, 2022

Treasure hunting, a new island and item crafting... It all sounds good, but is the Sunken Treasure DLC worth buying?
The Anno 1800 base game is one of the best city builder games that has been released in the last couple of years. And with 4 Season Passes and 12 DLC packs, as well as even more downloadable content, the game just got bigger, badder and more intricate.
It started with Season Pass 1, DLC 1: The Sunken Treasures. Did this DLC add enough content to the game to make it worth buying?
Ubisoft description
From the Ubisoft store:
Go treasure hunting in the depths of the Sea and build your biggest city yet on a huge new continental island in Sunken Treasures, the first DLC for Anno 1800. Immerse yourself further in the industrial revolution thanks to new quests, the diving bell system, a huge new island and item crafting.
That's a pretty neat description for the first DLC Ubisoft added to the already great Anno 1800. Does it live up to the expectations?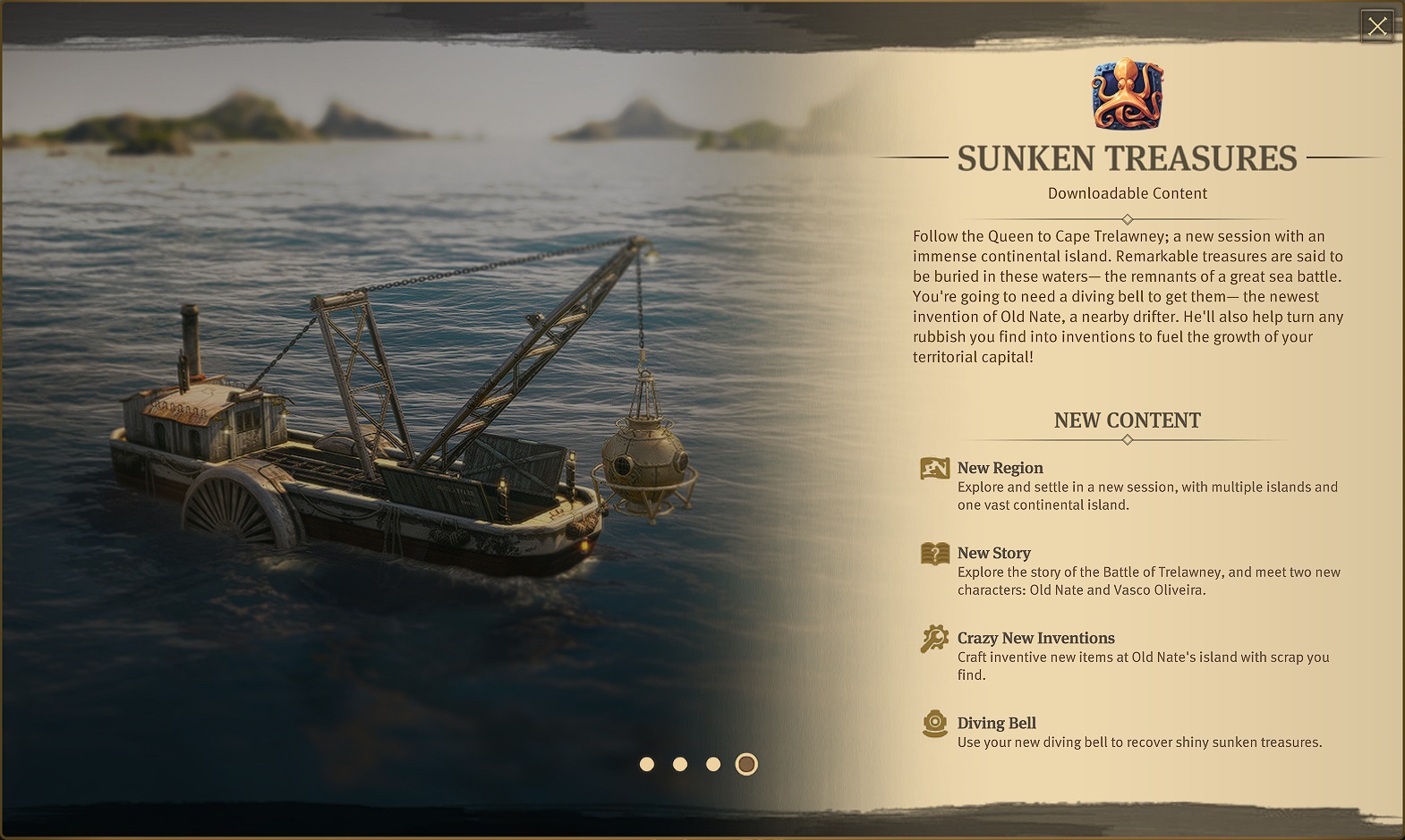 A new session
A huge new continental island... Where can I sign up?! Where islands in the old world aren't too bad to develop, the ones in the new world are terrible. So grabbing a huge new island to settle without lots of hassle is a welcome addition.
Turns out, grabbing that island means unlocking a new session first. In an interesting story line involving our dear Queen and the Battle of Trelawney, we travel to Cape Trelawney. The session itself is similar to the old world but boy, that island is HUGE!
You unlock a quest to start the story at 700 artisans.
What else does it add?
The Sunken Treasures DLC also welcomes a new NPC to Anno 1800: Old Nate. He's a trader like Mr. Fartipants and Isabel Sarmento, but with a twist: you can also craft some crazy new items in exchange for your goods.
These items offer bonuses to your production buildings or ships, like the Extra Virgin Oily Sucker (doubles your oil production for 4 hours), the Human IncarN8 Nr. 9 (lowers workforce need with 50%) and the ExtermiN8r (increasing attack speed and strength)
He also offers you a Salvager ship. With it, you can scout around the map and dive for treasure. Honestly, this might have been the best addition to the game for casual players. I've spent hours and hours just sailing around the different sessions, fishing up loads of things from the bottom of the sea. It's great fun and incredibly relaxing too!
Apart from Nate and his quirks, the DLC adds some more quests regarding that HUGE island and some unique items for your Zoo and Museum.
How does gameplay change?
With this DLC, your gameplay doesn't really change much. It doesn't add new mechanics nor new buildings you need to plan for.
You could account for the use of items that Nate offers, but a lot of them have a fixed duration and will need replacing after replacing.
One exception might be the UltiN8 Power Matrix (and a few similar items) as this provides electricity to buildings in range of the trade unit the item is placed in. Providing electricity without having to set up a complete oil production line could well be worth the crafting costs of this item.
All Sunken Treasure crafteable items that provide electricity:
AlterN8 Current Generator
Hydroelectric Wheel
Stainless Hydroelectric Wheel
The TurbiN8r
RacioN8d Super Spinner
UltiN8 Power Matrix
There's a full list of items that provide electricity here.
Verdict: is it worth buying?
In my opinion, the Sunken Treasures DLC is definitely worth buying.
The addition of Cape Trelawney and it's great island to settle and develop, is amazing. Combined with the new items old Nate brings, offer great value.
And the salvager ship is just a great bonus.