How much does a Rigid Airship Hangar cost to build? (Surprise: it's a lot!)
Posted on Nov 13, 2022

Building a monument takes time, money and a lot of effort. It's no surprise then that getting one yourself will set you back a fair bit of all of that.
The Rigid Airship Hangar is a monument type building. This means it is built in several stages.
In the case of the hangar, there are four stages. The first stage, the foundation, is built straight away. Other stages, like with all monuments, are built over time.
The Rigid Airship Hangar can be built in both the Old World as well as the New World and Cape Trelawney. The costs are the same, you just need different worker population.
In this post
1st stage: foundation
The foundation is the only step that actually costs money to build. Apart from that, it is not much of an investment that will puzzle you or set you back loads of building material.
Also, all of the building material can be sourced in the New World, which is great if you are building there. In the Old World, you'll need to get yourself some Aluminium Profiles imported.
$50.000
30 Timber
10 Bricks
10 Aluminium Profiles
This foundation is built immediately and sets you up for the next three stages, which will take (at least) 10 minutes each to complete.
2nd stage: Structure
On top of the foundation, the structure is built. The structure consists of regular building materials, but will take a lot of manual labour to complete.
50 Timber
50 Bricks
550 Jornaleros (New World) or Workers (Old World)
10 minutes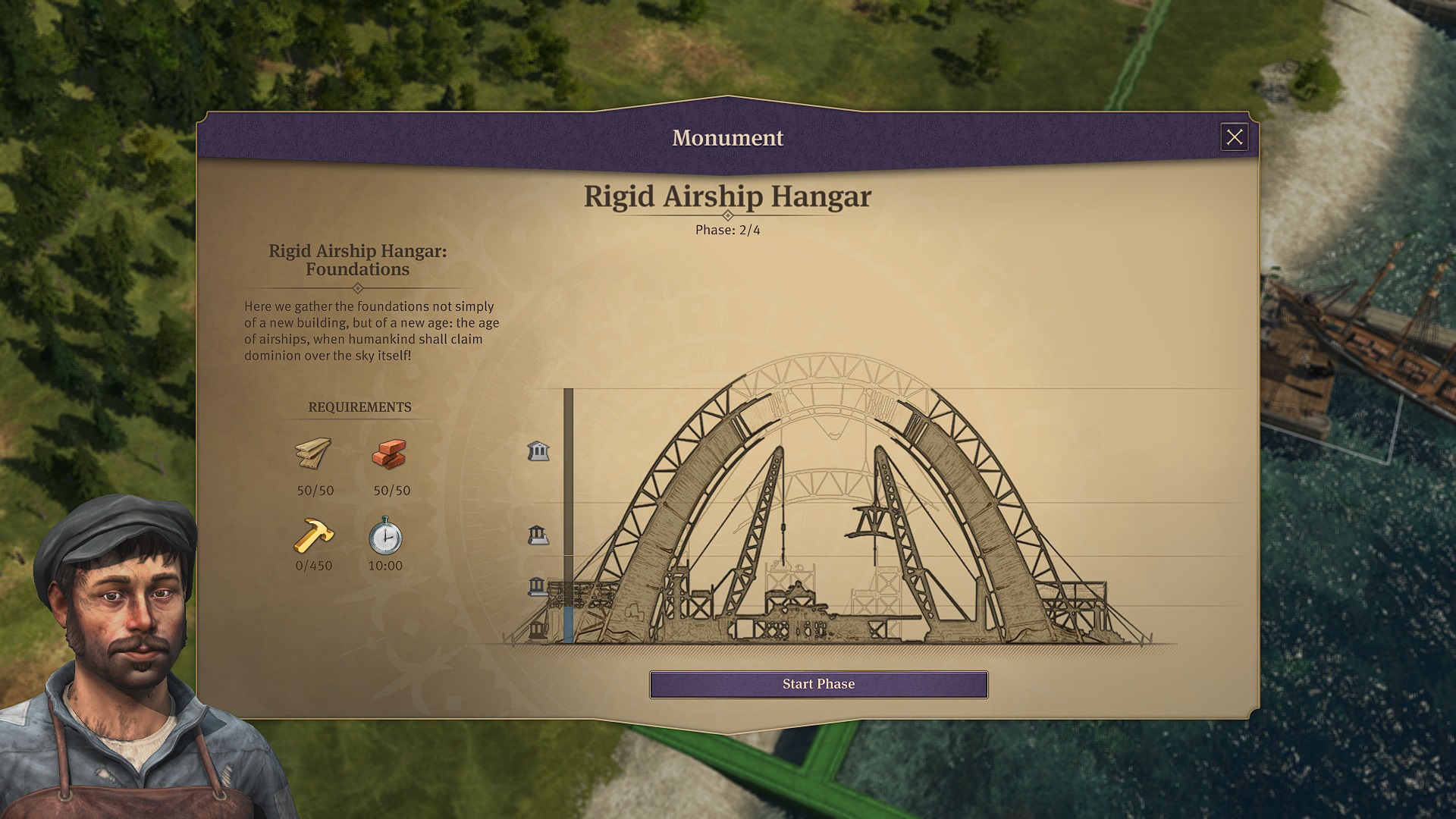 Of course, the Jornaleros and Workers will free up again after their construction is done. Ready to work some more!
3rd stage: Roof
Once the structure is in place, the roof will be built. For this stage, you will need to supply:
30 Bricks
40 Aluminium Profiles
600 Jornaleros (New World) or Workers (Old World)
10 minutes
The production of Aluminium Profiles is done in the New World as well, so you might need some importing. It only uses 50 more workforce than the 2nd stage, so get them hands back to work.
4th (and final) stage: Finishing it up
The fourth and final stage is to finish the building. This will be a bit of a hassle in the New World.
Not only will you need sails from the Old World, it also takes Obreros rather than Jornaleros to finish the construction.
In the Old World, you need Artisans and Aluminium Profiles. Both should be readily available if you are working on your main island or working with Commuter Piers. You've been shipping Aluminium Profiles over since the first step, so let us hope you prepared 😜
40 Aluminium Profiles
50 Sails
250 Obreros (New World) or Artisans (Old World)
10 minutes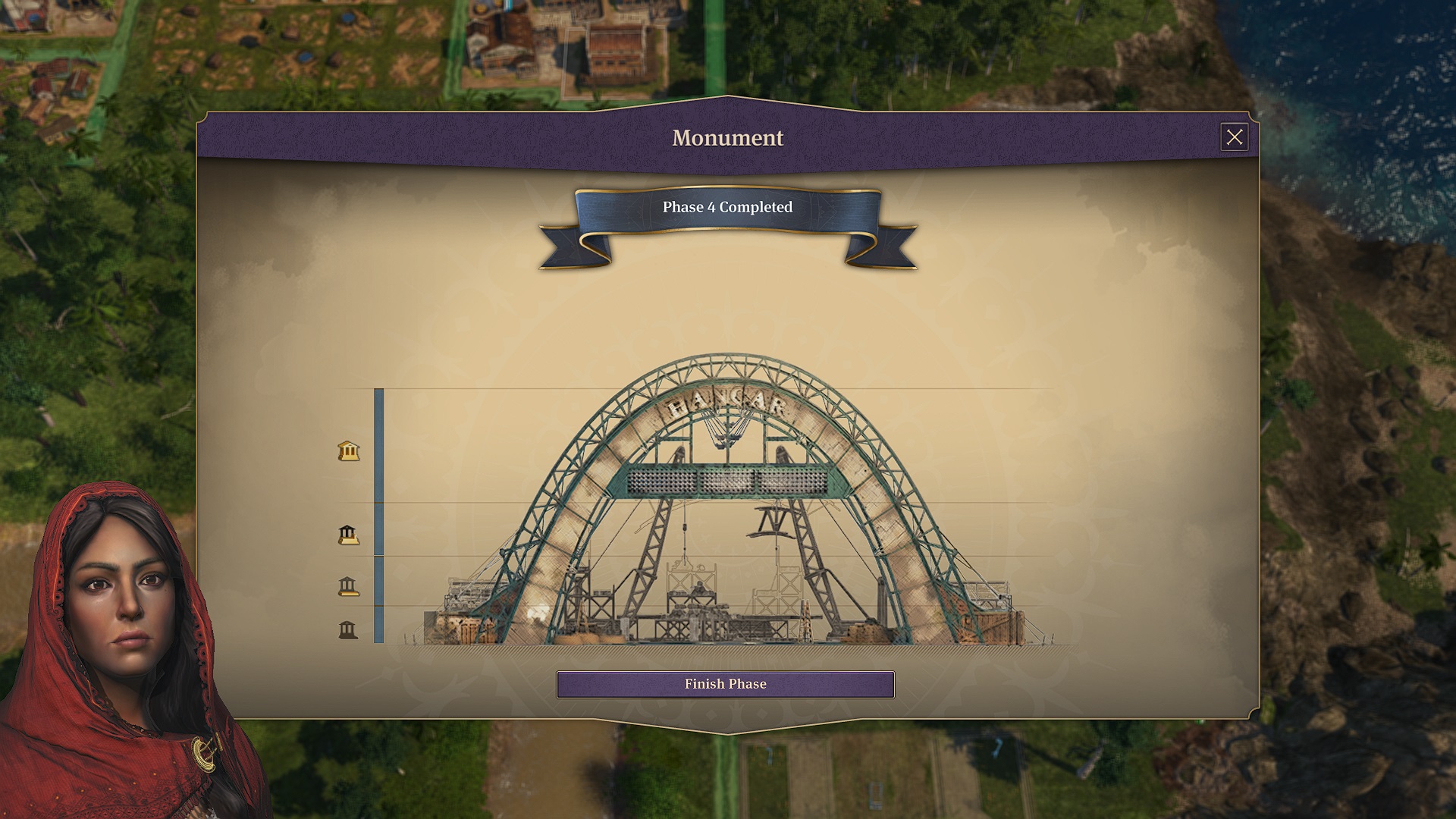 Hint for when you are constructing the Hangar in the New World: while your shipping sails over to the New World, send over some extra. Some of the airships (Harpy and Hermes) also require sails to build.
Total costs
With these four stages completed, you will have spent a lot of money and resources on the magnificent Rigid Airship Hanger. In total, the monumental building costs:
$50.000
80 Timber
90 Bricks
90 Aluminium Profiles
50 Sails
30 minutes
600 spare Jornaleros or Workers
250 spare Obreros or Artisans
Are you done?
Next step is to start producing Helium (another production chain spanning both Old and New World) and build the airships!