Getting started with Docklands Main Wharf in Anno 1800
Posted on May 24, 2021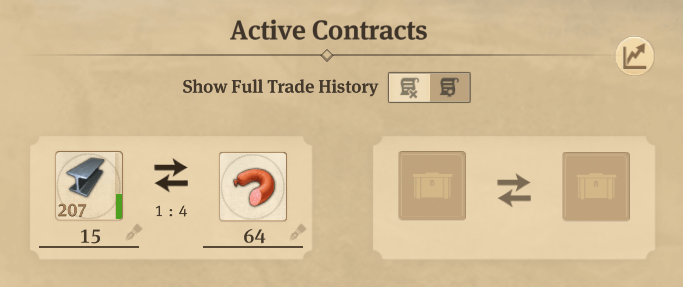 The Docklands DLC in Anno 1800 opens up the possibility to trade goods for goods (as opposed to money). Read this quick start guide to Docklands to get your first Import/Export contract up in minutes!
The Docklands DLC in Anno 1800 opens up the possibility to trade goods for goods (as opposed to money).
It introduces a new NPC, Captain Tobias, who will visit your islands every twenty to twenty five minutes (depending on your location on the map). He arrives with a absolutely massive cargo ship and will trade anything you have opened up contracts for.
It's a great way to get rid of your excesses while importing goods you don't want to produce or are in need of. While all goods in your warehouse can be used to export, not all goods are available to import!
Read this quick start guide to Docklands to get your first Import/Export contract set up in a few minutes!
Table of Contents
Setting up a contract
To set up a new Export/Import Contract, you will need to build the Docklands Main Wharf. This building becomes available as soon as you reach 250 Artisans.
Click on the Docklands Main Wharf and use the blue Export/Import button to reach the screen.
On the left side of the screen, you'll see your own goods and the Speciality Export Goods. Don't worry about them for now.
On the right side of the screen, you'll see all the goods you can import using Docklands. There won't be a lot to choose from at the start, but the list will grow as you continue the trade relations with Tobias.
The center of the screen shows the Active Contracts. Each contract consists of two goods: export to the left and import to the right.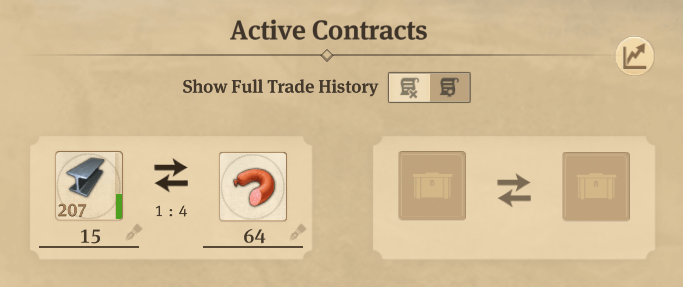 Just click on any of the available cargo crates to open up a pop up menu showing either your own goods (if you clicked on the left crate) to export, or the importable goods if you clicked on the right side of the contract.
Each good has it's own ratio. Steel beams are more expensive to make than schnapps. It makes sense that 15 steel beams trade for 64 sausages, but I would have to trade 79 schnapps to get the same 64 sausages.
Once both the goods to export and to import have been selected, you can set the amount. This can be done on the export goods, but also the import ones. Either way, the other amount will change.
For example, if I cange the amount of steel bars to 30, the amount of sausages will automatically change to 128. If I change the amount of sausages to 50, the amount of steel beams will drop to 12.
Right clicking on an existing contract good will remove it from the active contract.
Available goods at the start
In fact, only two handfuls of basic goods can be imported right after you build the Docklands main building. They are:
Potatoes
Pigs
Grain
Wood
Fish
Schnapps
Sausages
Clothes
Soap
That's actual wood we're talking about, not the timber that's used for building houses.
Unlocking other goods
The goods that are still locked for import, can be unlocked as you continue your trade with Captain Tobias.
There are three ways to unlock new goods:
By exporting other goods
By importing a specific type of good
By having at least an x amount of active trade contracts
For instance, to unlock peppers, you need to have exported at least 180 tons of any good.
To unlock malt, you need to have imported at least 171 tons of hops.
But, to unlock hops, you need to have at least 5 active import/export contracts.
Exports Office
With the Docklands Main Wharf built, you can set up your first contract straight away. To get more contracts, you need to build an Exports Office.
You can expand the Docklands Main Wharf just as you would a Museum, Zoo or Palace: by adding extra modules to it. There are 6 different modules available, of which the Exports Office is the last one.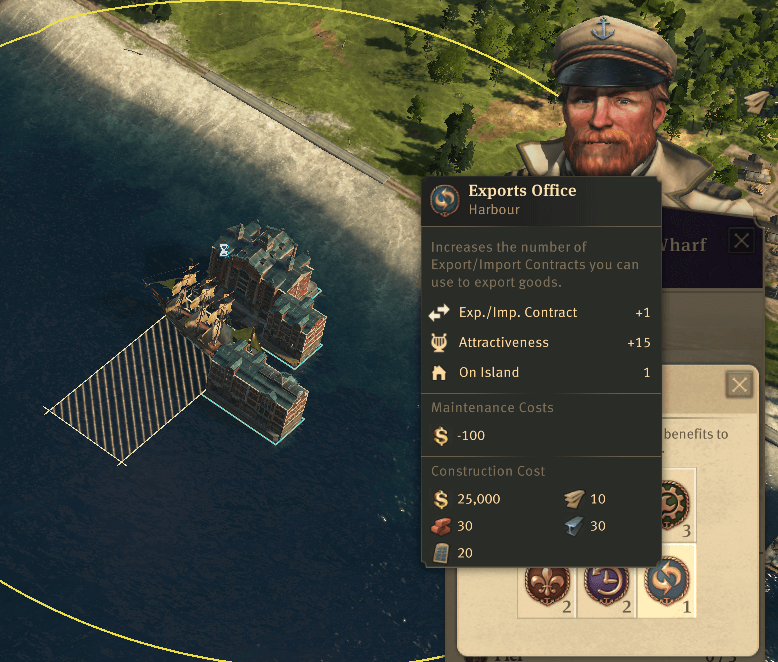 An Exports Office increases the number of Export/Import Contracts you can use to trade goods. Each module adds 1 additional contract to the list.
Upgrading Goods
When you first build the Docklands Main Wharf, you can only build a few extra modules. Like the palace, the amount of modules you can build is tied to your progression. With the palace, it's your population.
To be able to build more Docklands modules, you need to trade. A lot of trade. And every barrel counts.
When 1000 tons of one good has been exported, it will be upgraded to a tier 1 Speciality Export Good. That doesn't only offer you a better exchange ratio for that good, but will also allow you to build extra modules. Like an Exports Office.
So there you have it. A quick start guide to setting up your first trade contracts using Docklands DLC in Anno 1800. If anything is unclear or you have a completely different question, drop us an email at question@anno.city!